Review: Songs 4 Worship Ultimate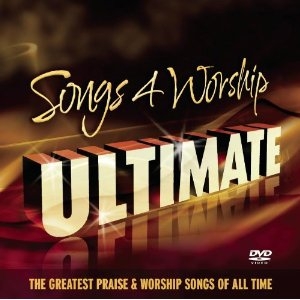 Integrity Music
Released March 1, 2011
Integrity Music is celebrating the 10th anniversary of it's ridiculously successful Songs 4 Worship series.  After selling over 10 million albums, they are dropping another release titled Ultimate. Rather than being a sampling of the past year's most popular worship music, it's a greatest hits or best of.
You've most likely heard these songs many, many times. If you don't already own them, or your worship leader hasn't overplayed them, or you're just getting started with worship music, I'd pick this up.
I've personally reviewed a ton of these artists in the last year (Tomlin, McMillan, Brewster, ALM:uk, Kathryn Scott), and this is a good way to get a sample of what's going in worship music (the same way that the WOW series does for radio friendly Christian music).
You're going to get over 30 of the best worship sons. Stuff by Chris Tomlin, Kari Jobe, Lincoln Brewster, Brooklyn Tabernacle Choir, Casting Crowns, Michael W. Smith, and even my personal favorite John Mark McMillan. Over 30 songs and a bonus DVD of music videos.
Grade: 3.5
Tracklist:
CD 1
01. Everlasting God – Lincoln Brewster
02. Mighty To Save – Laura Story
03. Open The Eyes Of My Heart – Paul Baloche
04. Shout To The Lord – Natalie Grant
05. Word Of God Speak – MercyMe
06. Above All – Michael W. Smith
07. How He Loves – John Mark McMillan
08. In Christ Alone – Travis Cottrell
09. I Am Free – New Life Worship
10. Friend Of God – Israel Houghton
11. Revelation Song – Phillips, Craig & Dean
12. Days Of Elijah – Robin Mark
13. Here I Am To Worship – Eoghen Heaslip
CD 2
01. My Savior Lives – New Life Worship
02. Your Grace Is Enough – Jared Anderson
03. Hosanna (Praise Is Rising) – Paul Baloche
04. Holy Is The Lord – Brooklyn Tabernacle Choir
05. How Great Is Our God – Promise Keepers
06. Mercy – Casting Crowns
07. Today Is The Day – Lincoln Brewster
08. Your Name – Phil Wickham and Paul Baloche
09. Healer – Kari Jobe
10. Hungry – Kathryn Scott
11. Beloved – Tenth Avenue North
12. Refiner's Fire – Brian Doerksen
13. When I See Your Face – Darlene Zschech
14. We Still Believe – Kathryn Scott
DVD
Performance Videos
01. How He Loves – John Mark McMillan
02. Revelation Song – Gateway Worship with Kari Jobe
03. Glorious – Paul Baloche
04. My Savior Lives – New Life Worship
05. You Are For Me – Kari Jobe
06. Moving Forward (Acoustic) – Israel Houghton
iWorship Videos
07. Be Glorified -ALM:uk
08. God You Reign – Lincoln Brewster
09. New Doxology – Gateway Worship
Bonus Videos
10. God Be Praised – Gateway Worship
11. Love God, Love People – Israel Houghton
12. We Still Believe – Kathryn Scott
13. Level Ground – Brian Doerkson